hooray for turkeys!
still been rather busy... back in septmeber, the ceiling began to cave in in my parents bed room... the nails that had held the drywall to the ceiling the last 40 eyars had walked out... so over the past couple monhts my dad has been going throughthe porcess of fiding a contractor to fix the ceiling... the contractor also fixed the ceilings in my sister's and my bedrooms... inthe living rom the ceilng was also sagging, however the same procedure to remedy the problem could not be used becaus eo fa much larger room size... so now the ceiling inthe living room of our house is being replaced... we may not beable to live on out house for another week or more... i stayed at with some friends' last night and my fmaily and i are going to my grandmother's for the thankgiving weekend... yipee...
last thanksgiving i drew a picture in celebration... well i'm lacking the gumption to draw a new one right now.. but here's the old one again...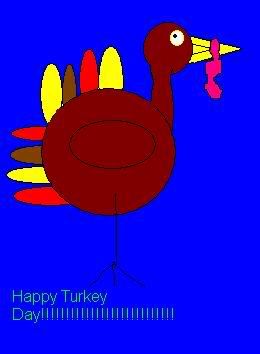 whie searching for this picture in my photobucket i had ot wade thorugh many many pictures of k8... i had forgotten how wonderfully attractive i find her... yum!
i plan on going up to east lansing december 2nd to look at apartments... i'm finding ti's rather expensinve aorund there... there's one in lansing that seems nice and in more affordable... but i need ot look at several places...
i need to go now and pick up my grandpa...